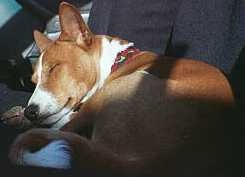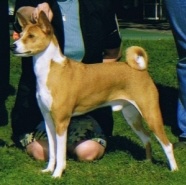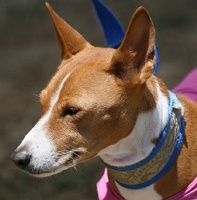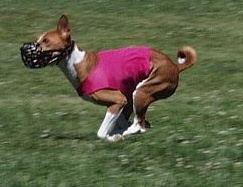 Our Dogs

Copyright 20
11
Kinetic Basenjis

Woodland, CA

Nicky
DC Sherwood's In The Nick Of Time SC, RN, LCM, VFCh, JOR

Nicky is our first basenji. He was born December 20, 1997 at Sherwood Basenjis in Georgia, and came to live with us in May 1998. He has taught us many things about basenjis and stole our hearts.


Nicky is first and foremost our pet and companion. He loves to go camping and as long as he doesn't have to go near the water he thinks the beach is a great place to visit. He is an expert snuggler and never talks through your favorite shows.

When we first got Nicky we had never owned a purebred dog before and wanted to try out the different activities. We showed Nicky at his first match when he was 17 months old and started showing him in October of 1999. Nicky finished his championship on January 10, 2004. Thank you, Pat Fragassi for handling him to both his majors. He has helped me to learn many things about showing a dog.


Nicky also introduced us to lure coursing and what an introduction. Nicky has earned his AKC and ASFA field championships and an ASFA Lure Courser of Merit award. He was tied for #3 in AKC lure coursing for 2000 and tied for #4 in ASFA coursing the same year. He loves to run and has also tried out LGRA and NOTRA racing. At 14 years old Nicky still loves to run but has retired from lure coursing but still does sprint racing occassionally.